The silk route to hospitality
Our Concierge will be happy to assist you in booking any excursions listed below with our partner tour operators.
A place with unfathomable elegance, the desert's beauty is magical to behold and its silence is miraculous to absorb. There is no better time to study its many charms than in the early hours of the morning. So, as you leave behind the bustle of the city at dawn, trained safari guides driving 4×4 vehicles lead the thrilling journey over rolling dunes.
After settling down in the 4WD vehicles, the jeeps will speed through the golden sand dunes of the desert. The dune bashing or desert driving continues with the thrill of going up and down the dunes provoking many shrieks and laughter. 
Amongst the undulating dunes lies our Bedouin camp welcoming us to discover the true feeling of Arabia. After enjoying a fascinating ride through desert we have time to relax under the starlit sky accompanied by traditional music.
Sand Skiing and Camel Riding
Because of the alluring backdrop of huge sand dunes, this trip is truly an unforgettable one for the fun seekers!This 4 hours trip initially takes us to the Hatta part, where we make a stop near the huge sand dunes dominating the scene. So, we get to experience the thrill of skiing down the massive dune and also enjoy some refreshments and soft drinks in this beautiful place.
To start off, on this comprehensive tour, you'll learn about Dubai's history, culture, and unrivaled modern side.
So, this will allows you to see the region's diversity of historic, iconic, and celebrated landmarks. The four-hour Dubai city tour package is one of the greatest ways to see both the historic and glamorous sides of Dubai, which
is known as the Middle East's jewel. And this tour includes a visit to the Dubai Museum, which is housed within
the Al Fahidi Fort, which dates from the 18th century. Hence, it features arts and artifacts on display that illustrate
the ancient history and way of life of traditional Arabs. It's a great blend of Islamic and contemporary design, Jumeirah Mosque is another popular place of interest in the itinerary.
These include:
The Burj Al Arab Hotel –
The world's only seven-star hotel with a distinctive silhouette resembling a billowing sail
The Palm Island – the crescent-shaped man-made island, Atlantis Hotel
Burj Khalifa – world's tallest building, and more.
Since Dubai's picturesque features are also remarkable, a photo stop at the well-kept Jumeirah Beach will
provide you with a unique opportunity to take in the city's natural splendor. Lastly, the excursion concludes with a drive down Sheik Zayed Road, 
which is bordered on both sides with majestic skyscrapers, and shopping at one of the city's most popular retail malls. So, whether you're a history buff, a shopper, or simply looking for a peek of the city's major tourist attractions, the city tour will meet all of your specific needs.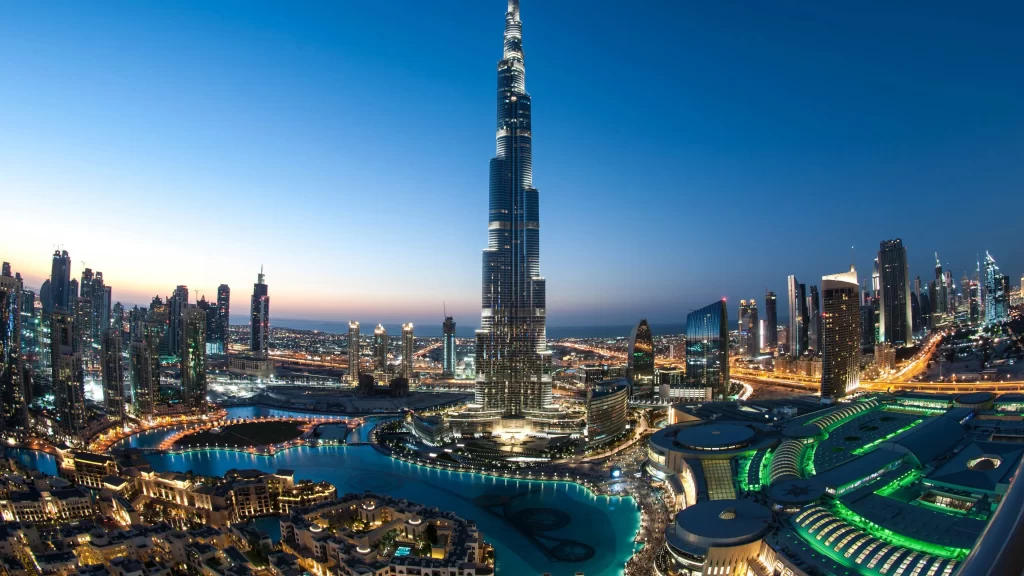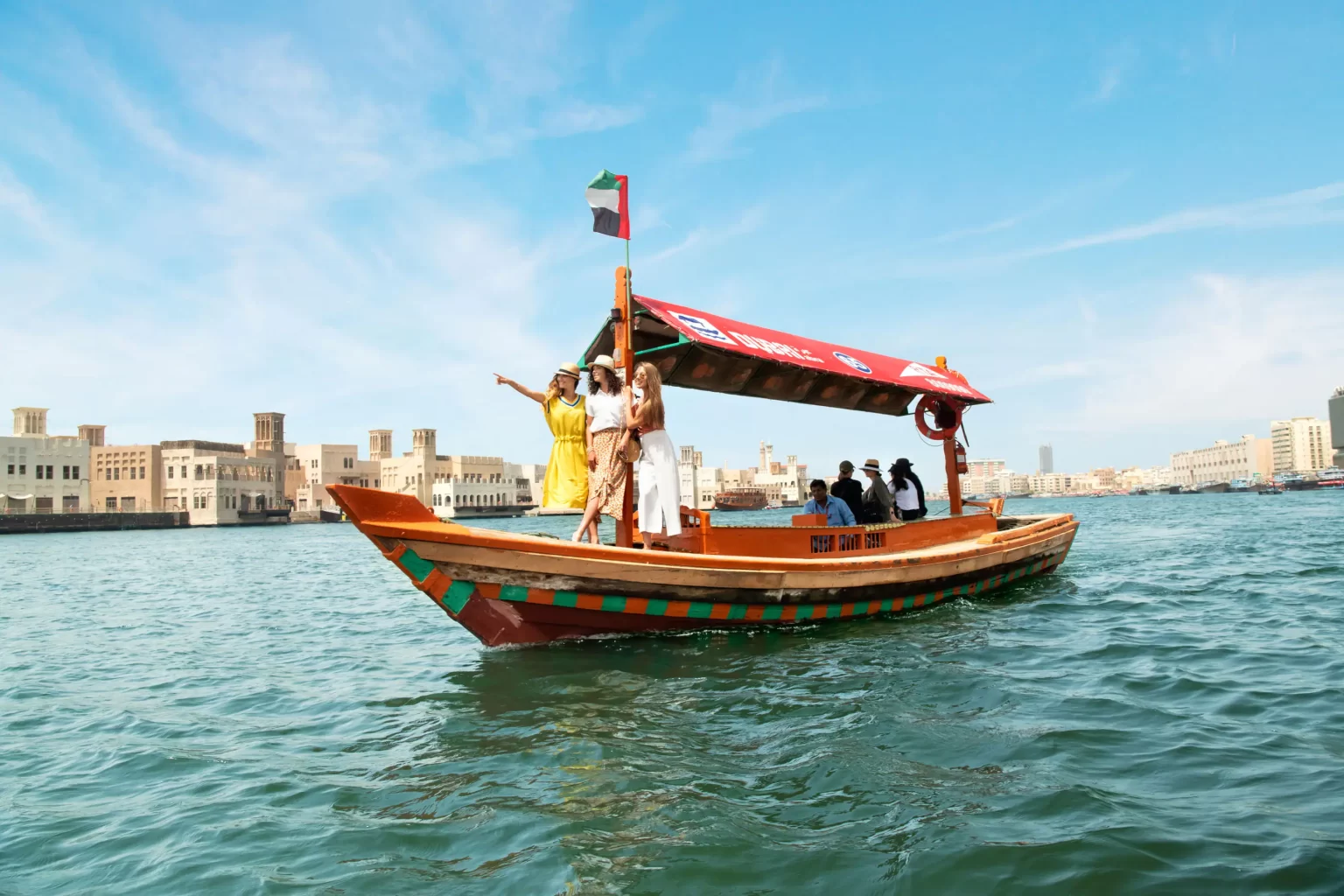 Take a glimpse of ancient Dubai in the Old Bastakiya district and gain knowledge of the city's rich heritage.
Take a look at the colorful and evocative patterns complete with life-size figures and sound effects at the Dubai Museum.
Walking through Dubai's oldest souk and its fascinating alleys, you will discover the "traders' paradise".
And finally, the tour would not be complete without a ride along the creek aboard the Abra(Water taxi).
An authentic Arabian atmosphere is characterized by the rich aroma of perfumes, spices and dried fruits at the Spice Souk (market).              And finally, enjoy visiting the place where all that glitters is GOLD – Dubai's world-famous "Gold Souk".
Initially, after settling down in the 4WD vehicles, the jeeps will speed through the golden sand dunes of the
desert.
Because of the thrill of going up and down the dunes, the dune bashing or desert driving provokes many shrieks
and laughter.
Consequently, a short break on top of the dunes follows to rest your vocal chords and witness the most wondrous
sight of the Arabian sunset in all its wonder and glory. So, this is most definitely one of the highlights of this
experience.
Additional, the final leg of this program takes us to the main campsite. Here, at dusk, there is an opportunity to try
some camel riding near the Bedouin camp.
Finally, a delicious barbecue dinner is prepared on open fires and a variety of beverages are available.
The camp is set up with Persian rugs in the traditional way so it creates a typical Bedouin camp under the stars.
Because entertainment is a must, you'll hear the tempo of the music increases as a Belly dancer starts dancing
to its rhythm.
So, there's no other way to experience a true Arabian night.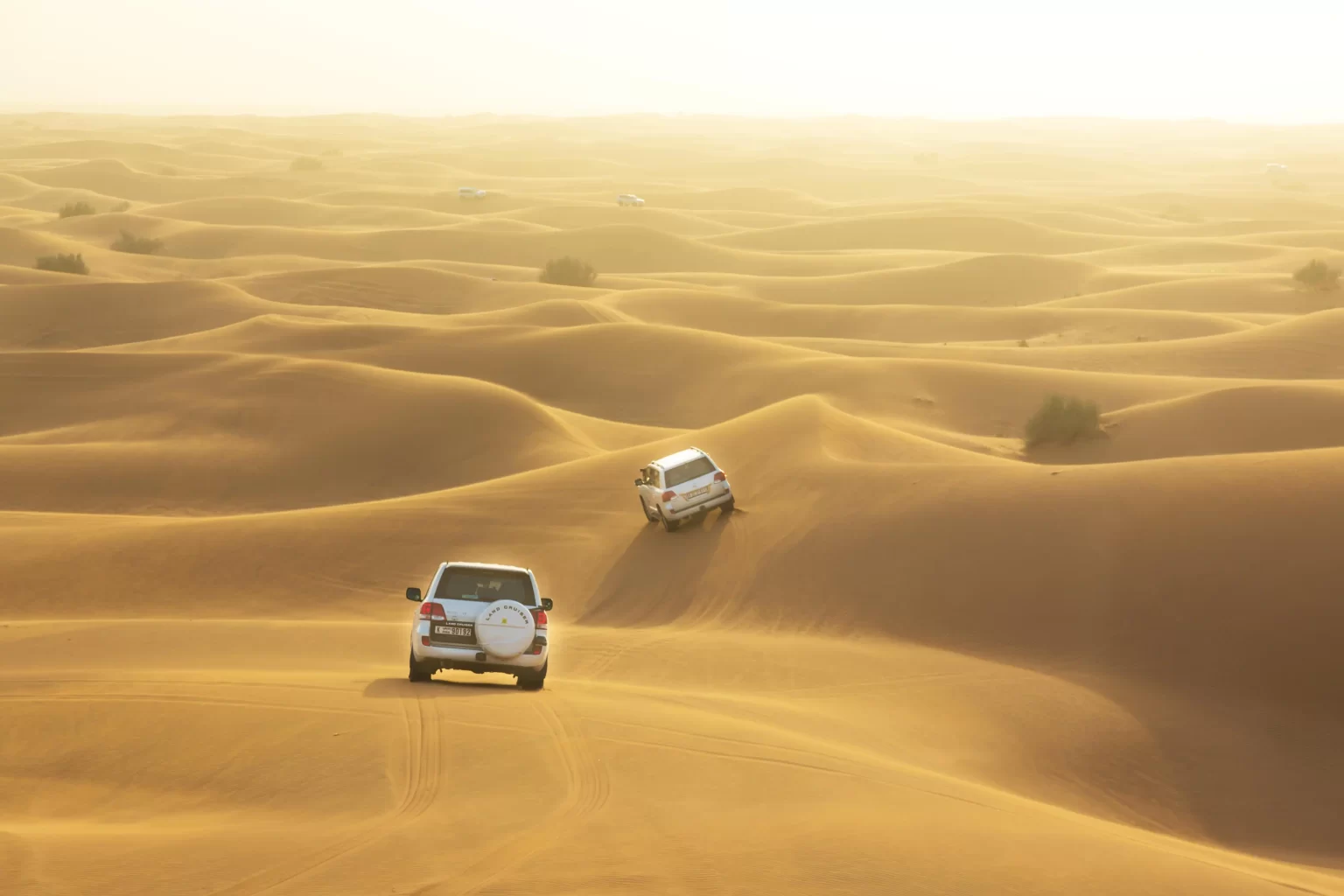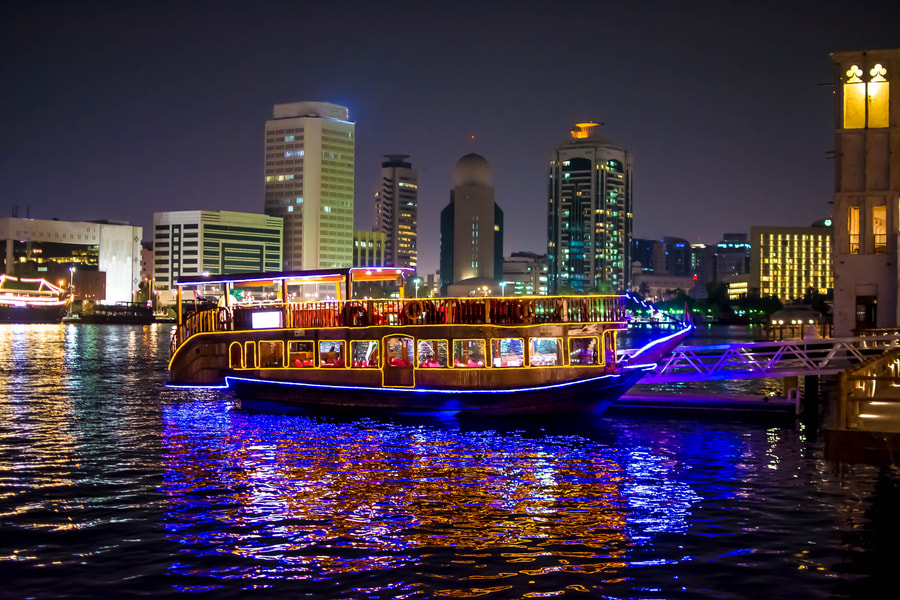 Creek-
A dinner cruise is the most suitable way to appreciate the breathtaking vistas of Deira and Bur Dubai in a
pleasant and welcoming atmosphere, and it will undoubtedly be one of the highlights of your Dubai visit. So, this
two-hour Dubai Dhow cruise, which normally starts after sunset and lasts around two hours, is an enchanting
experience because it traverses practically the whole length of Dubai Creek.
Marina-
Enjoy spectacular views of the magnificent architecture of mansions, resorts, and retail centers while dining on
delicious global cuisines offered in a contemporary ambiance that maintains traditional charm. So, brace
yourselves for mind-blowing entertainment and performances on-board our dhow. This eating experience is one
of a kind because the setting's bounded by dazzling illumination and multi-hued manifestation on Dubai Marina's water. To top it all off, there will be a delicious buffet dinner with continental and oriental dishes.
Also, soft drinks and mineral water are provided as part of the package. So, enjoy the nighttime ambience of
Dubai while listening to Arabic music.
Hike the world's highest building, the Burj Khalifa, to get a bird's-eye view of Dubai's striking contrasts from its two observation decks. You will have access to one or both of them, 
depending on your Burj Khalifa tickets. Only here can you ride the world's fastest double-deck elevator, which travels at a speed of 10 meters per second.
The At The Top ticket gives you unrestricted access to the 124th and 125th floors. Take in a close-up view of the city from the 124th level, thanks to the modern, high-powered telescope.
Level 125 is dedicated to Arab arts and culture, where you may experience cutting-edge exhibits and learn amazing stories. Step out onto the Burj Khalifa's most panoramic deck, 
which is decorated in the style of Arabian Mashrabiya. This exciting public observation terrace, perched at a height of 452 meters, is the ideal spot to soak in to the colourful cityscape. When you feel the glass floor fracture beneath your feet,
 your jaws will drop — this remarkable animation is generated with interactive audio and virtual sensors. The virtual reality experience and the special impact of green screen photography will add a dash of excitement to your tour.
Choose a timing that matches with sunset – as the sun sets and Dubai's light comes to life, you'll be treated to some breathtaking views. Later, relax in Sky Lounge or have a meal at Atmosphere.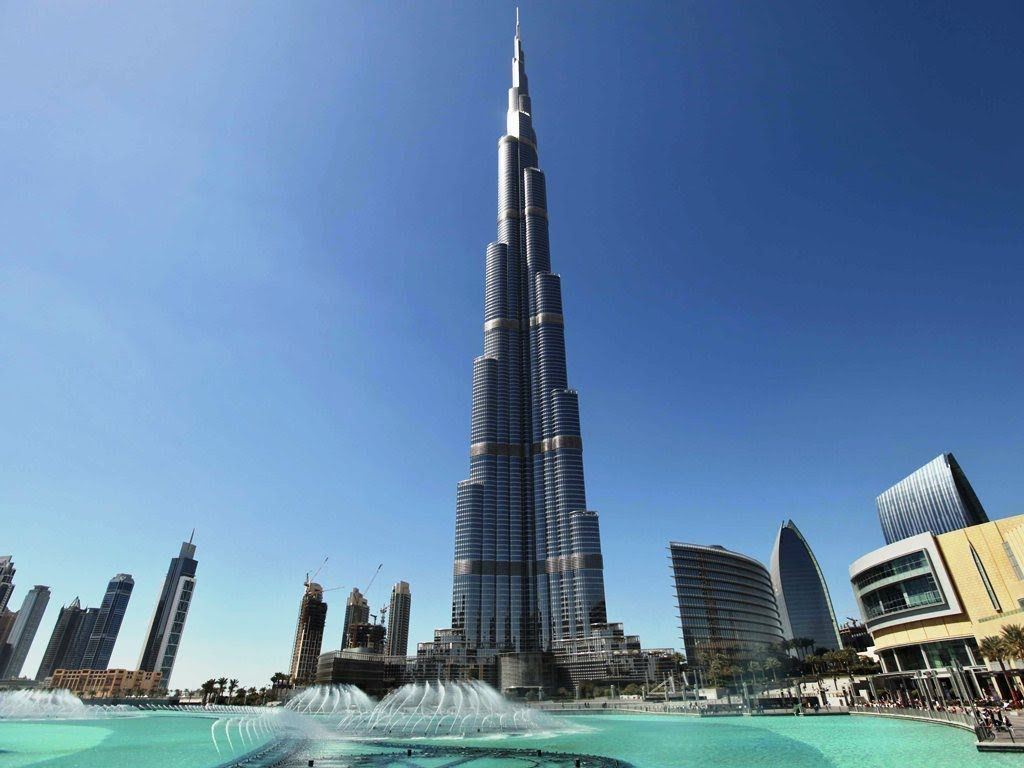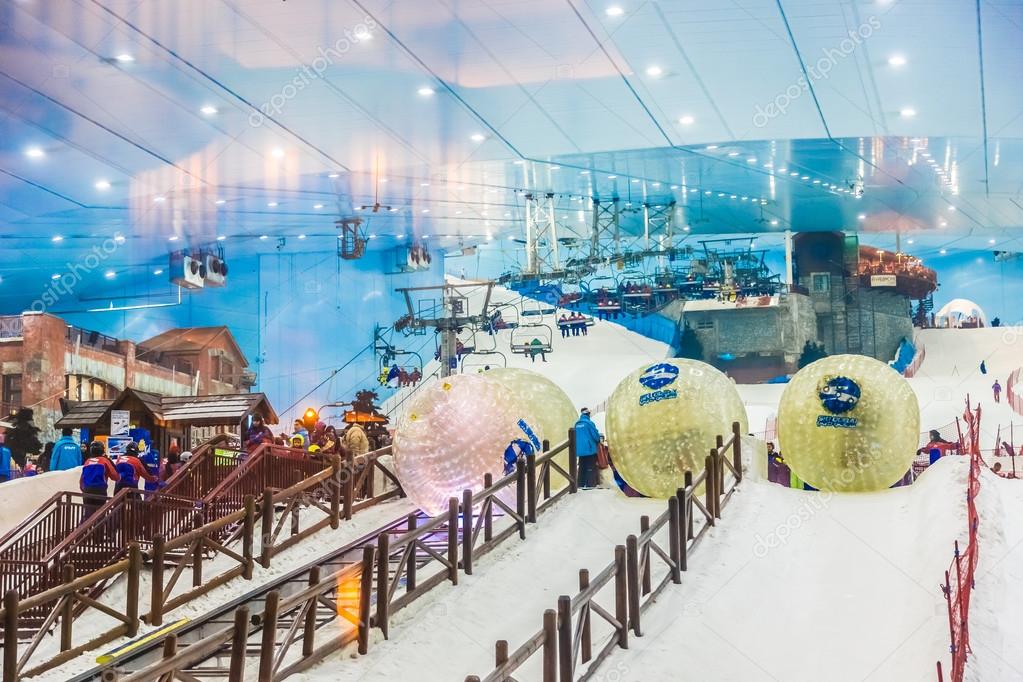 Experience sub-zero temperature all-year round at Ski Dubai, home of skiing and snow-boarding, in the Middle East.
 A huge tube extending behind and above Mall of the Emirates, it includes five slopes for all levels of skiers as well as the world's largest indoor snow park, where snowball fights can be enjoyed even in the middle of summer.
Aquaventure: Atlantis Water Park
Explore a world of breathtaking water thrills. Slide down the immense Ziqquart through a shark-infested lagoon; take a river ride over two kilometers of water rapids and white water chargers.
For younger visitors, plunge into splashers, the amazing water playground for kids.
This is a unique water adventure, with something new to discover at every turn.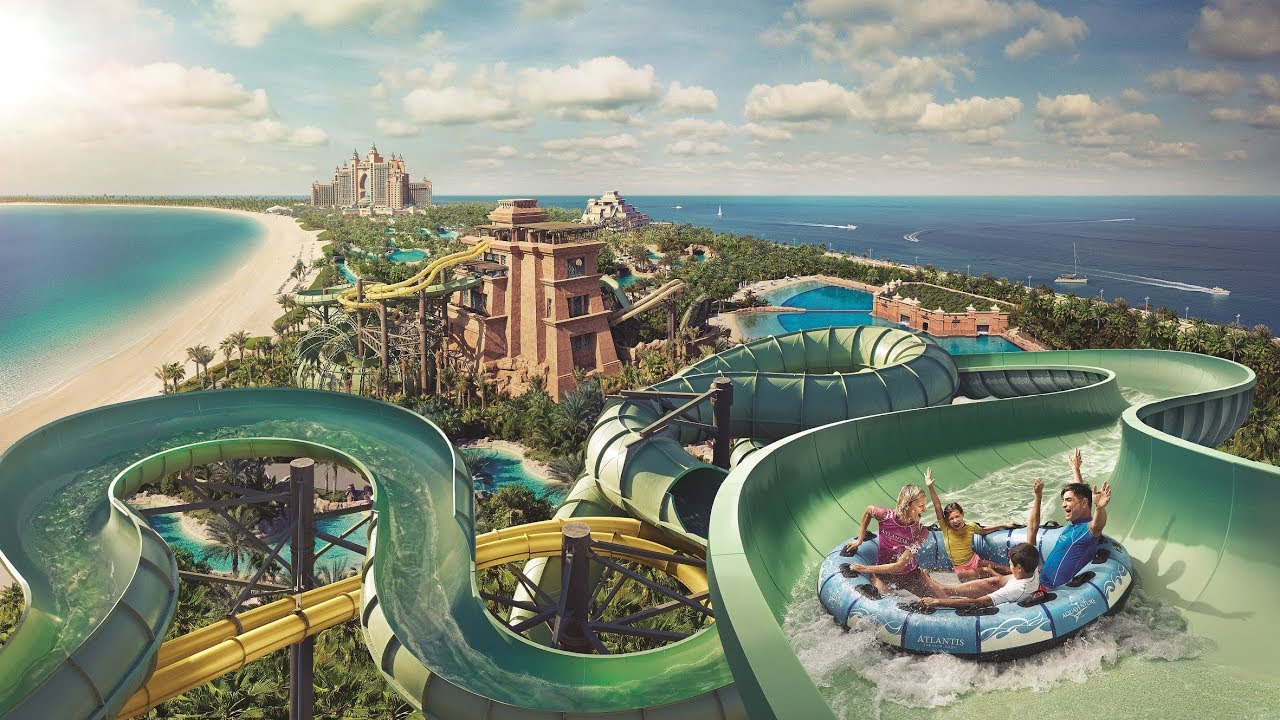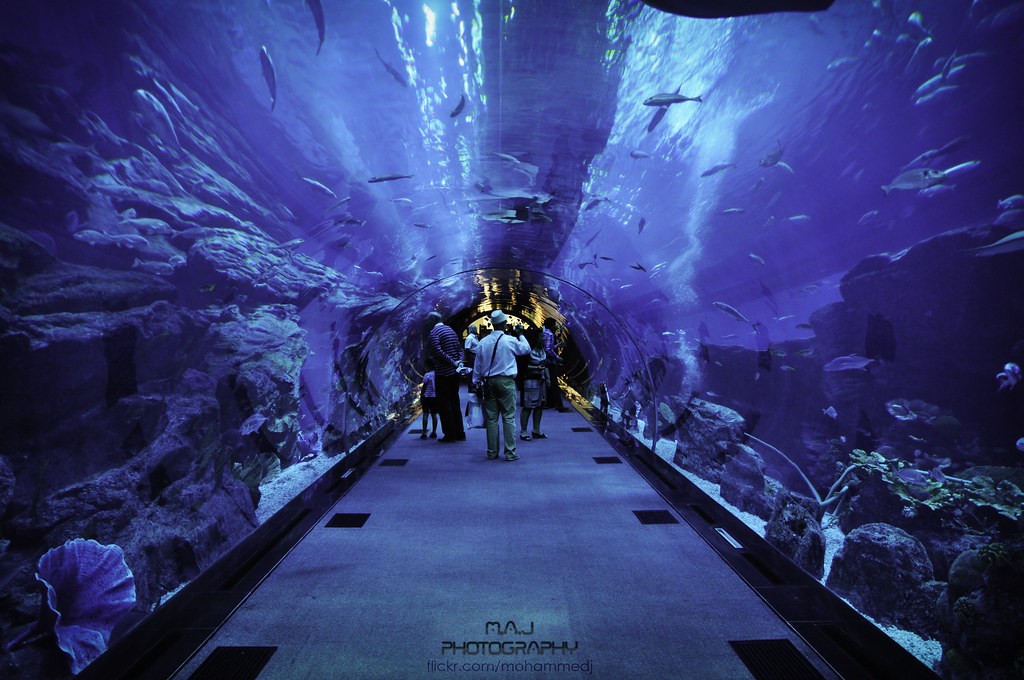 Dubai Aquarium & Under Water Zoo
Experience the aquarium in a variety of ways by walking along the 48-metre long Aquarium tunnel or drift atop the 10 million litre tank on a Glass-Bottom Boat Ride.
For the more adventurous, enjoy an adrenaline-charged Cage Snorkeling Experience or a spine-tingling Shark Dive.
Experience over 200 additional species of aquatic animals at Underwater Zoo including Piranhas, Otters, Penguins, Crocodiles and a host of Creepy Crawlies.
Our Ocean School also provides students with an exciting and interactive edutainment experience which is unique to the UAE. It's all part of an aquatic adventure you'll never forget.
Live Dolphin and Seal Show
The Live Dolphin and Seal Show is a 45-minute show which gives the Dolphinarium's guests the pleasure of seeing gracious bottlenose dolphins and playful northern fur seals perform with their loyal trainers.
During the show, the dolphins and seals dance, sing, juggle, play ball, jump through hoops, and paint.
A lucky spectator from the crowd wins the chance to experience a ride in an inflatable boat pulled by one of the dolphins.
At the end of the show, visitors get the opportunity to take a memorable photograph with the Dolphinarium's amazing inhabitants.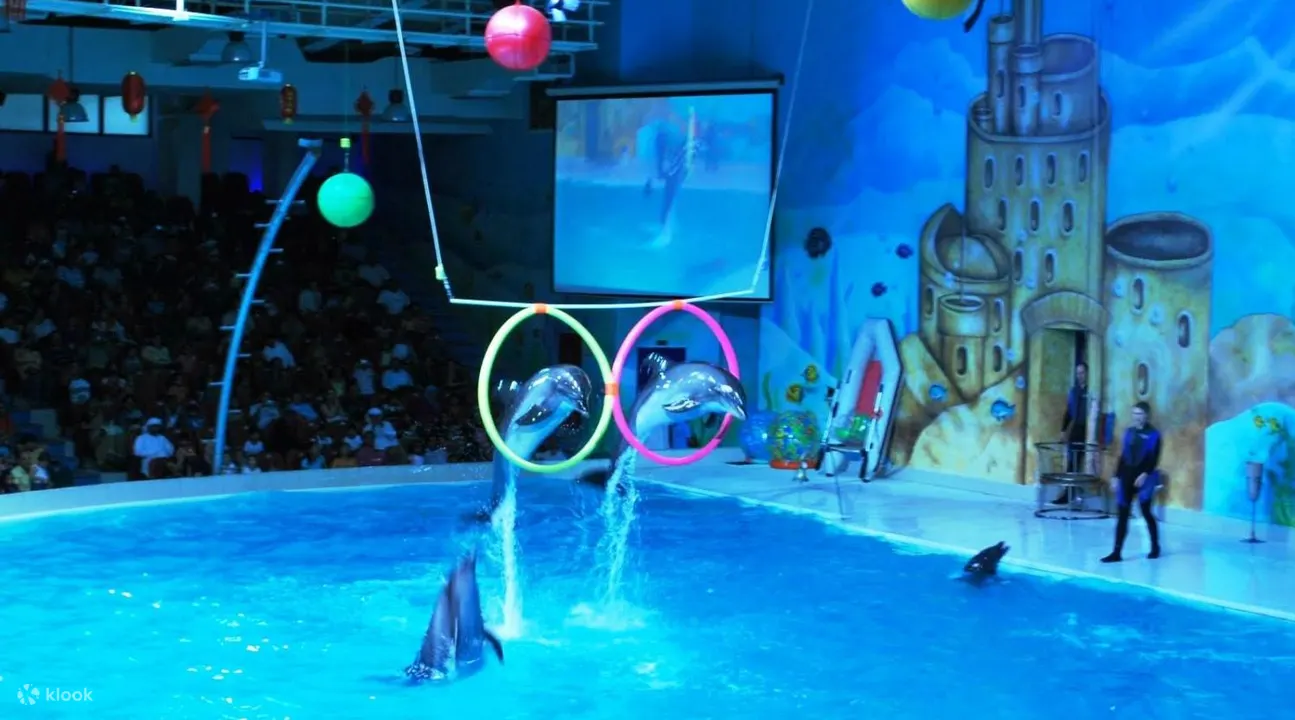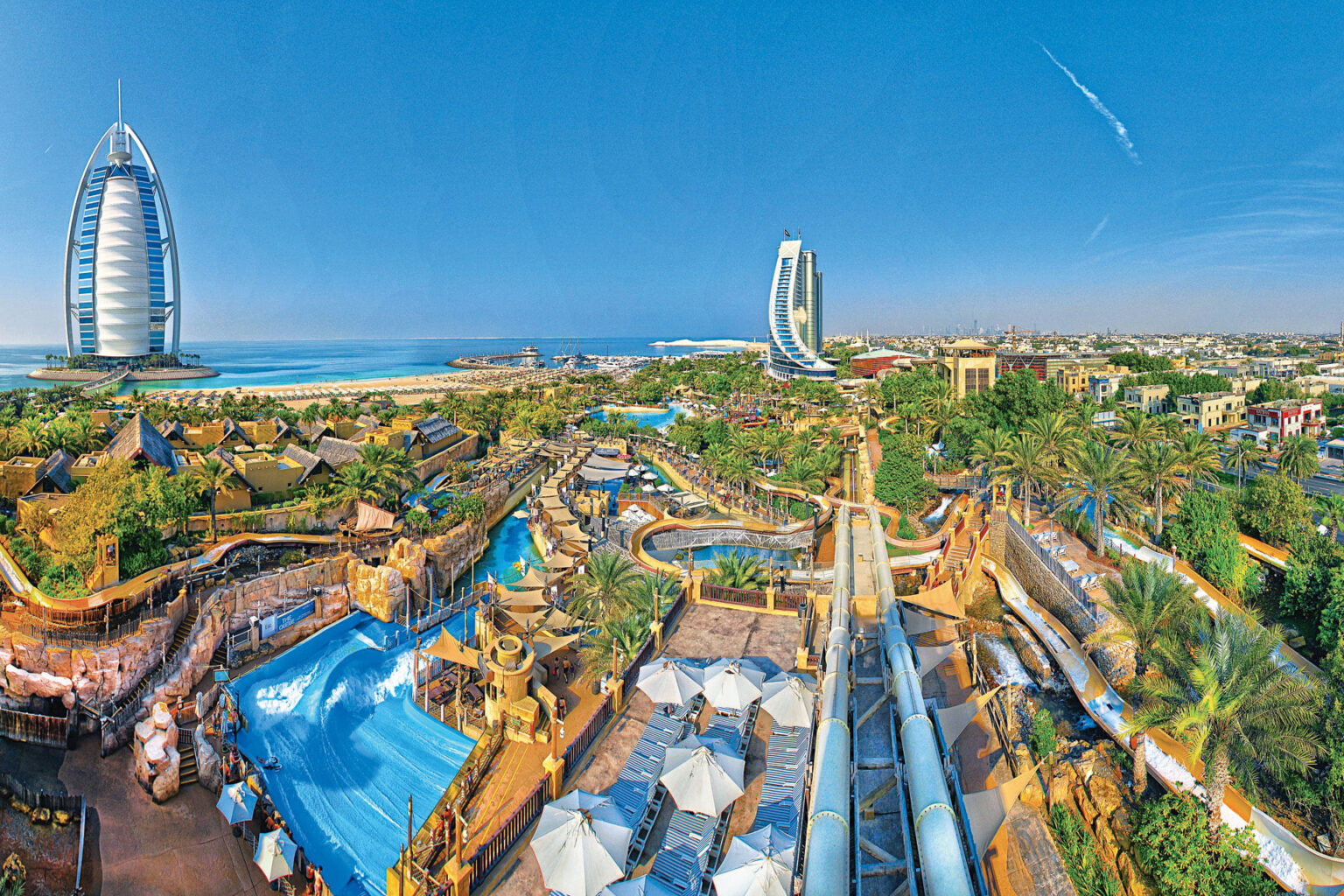 A 12-acre water park that's home to 30 aquatic rides and attractions for all ages, Wild Wadi is themed around the adventures of Juha, Sinbad's mythical friend.
 Go body boarding at Wipeout, float through ever changing landscapes or scream to your heart's content at the exciting rides.
Green Planet is a desert paradise that recreates the incredible Amazon rainforest ecology of South America. This 60,000-square-foot glass biodome at City Walk is home to over 3000 unique species of flora and animals, including hyacinth macaws, toco toucans with orange beaks, and coy nocturnal porcupines, 
as well as crocodile lizards and snakes. It features an attractive cylindrical shape, with an exterior that looks like a folded piece of origami paper, and is developed by Meraas and operated by ZoOceanarium Group.
A visit to Green Planet is said to offer you the feeling of experiencing an authentic tropical forest, as it has been meticulously designed with very lifelike rainforest features. 
A giant 25-meter-high artificial Kapok type tree that stands tall and wide within the building is the main attraction. It's the world's largest of its kind, made up of vines and figs, and serves as a life-sustaining tree, sheltering a variety of exotic plant, animal, and bird species. In addition to infusing the air with soothing mist, a dazzling waterfall connected to the tree adds to the allure.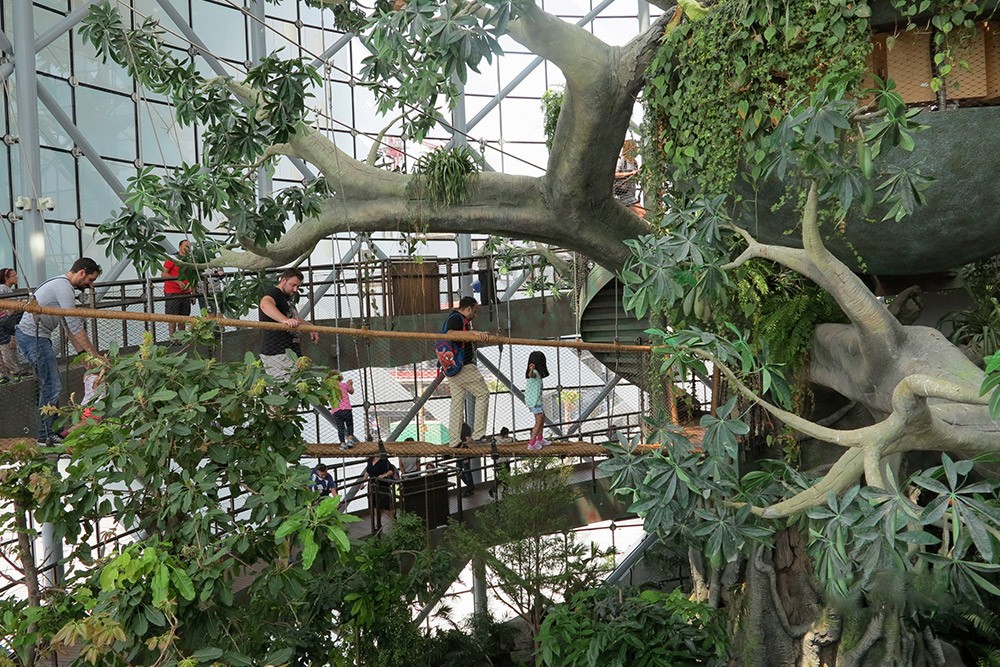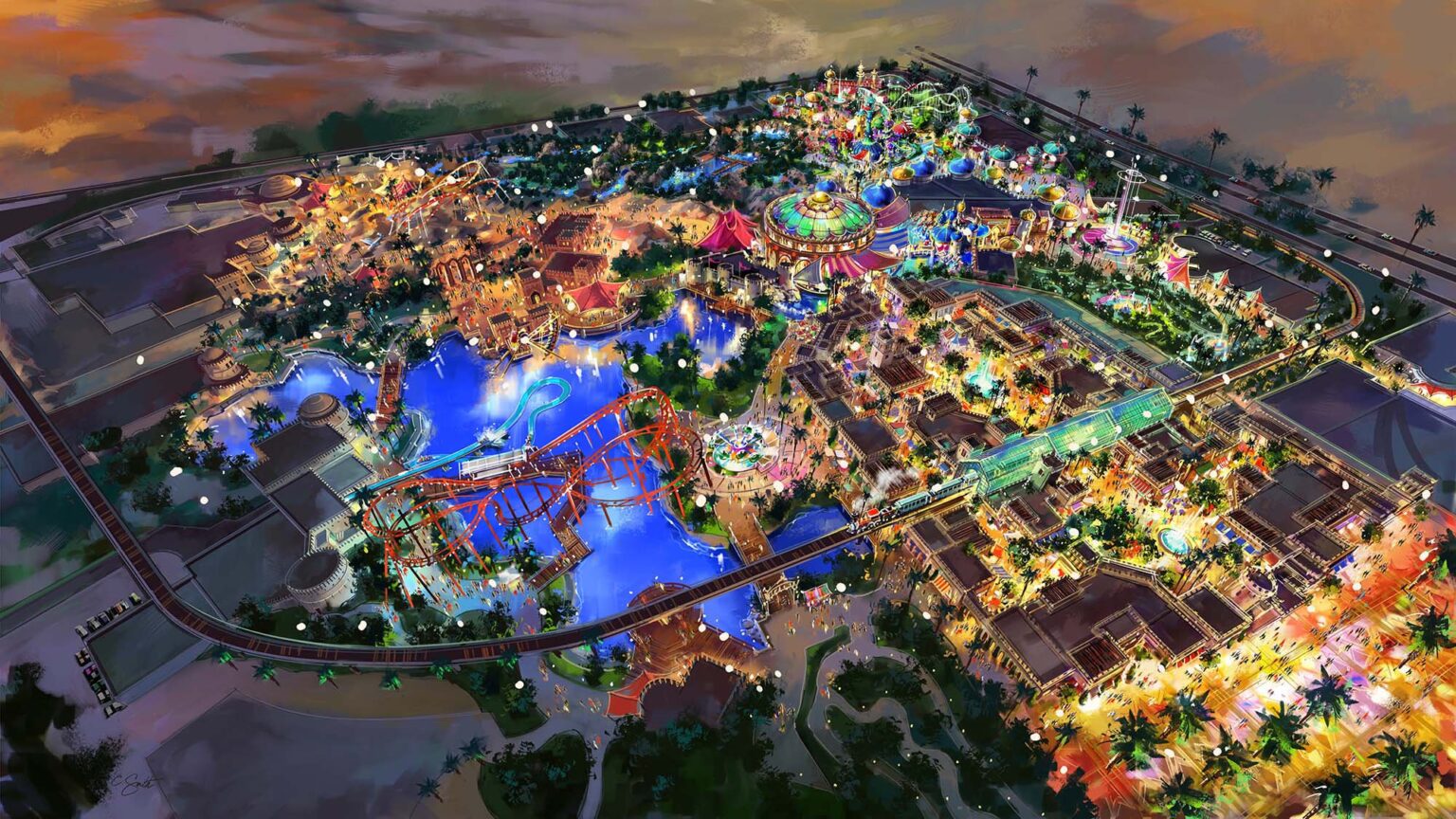 IMG Worlds of Adventure invites you to experience its captivating blend of thrilling rides, a multiplex cinema, and a variety of other attractions, making it suitable for families and individuals of all abilities and interests. 
This 1.5 million square foot indoor theme park in City of Arabia, developed by IMG (Ilyas & Mustafa Galadari) Group and part of Dubailand Entertainment, is the world's largest indoor theme park.
The climate-controlled entertainment complex in Dubai is divided into four zones: Marvel, Lost Valley, Cartoon Network, and IMG Boulevard, each having its own collection of attractions and food options.
The 350,000-square-foot Marvel Zone is designed to resemble New York's streets. It includes an exclusive line-up of 3D attractions inspired by some of Marvel Comics.
At Lost Valley, an invigorating, fresh new concept exclusive to IMG Worlds of Adventure Dubai, things get even more exciting. It includes five separate distinctive rides, including Adventure Fortress, Dino Carousel, Forbidden Territory, Predator, and Velociraptor, which feature 70 animatronic dinosaurs. You can, of course, travel back in time and enjoy heart-pounding ride effects at every bend.
Cartoon Network, which represents the popular American satellite channel, is a 230,000-square-foot zone with a variety of kid-friendly themes such as Lazy Town and The Powerpuff Girls – Mojo Jojo's Robot Rampage. The Ben10 5 D Cinema, which is the first of its type in the world, is a big draw.
Now, if you're looking for a frightening thrill, go over to IMG Boulevard's Haunted Hotel. If rides aren't your thing, or if all that action-packed fun has worn you down, IMG Boulevard also offers a variety of calmer activities. Because of its diverse range of food and beverage establishments, retail stores, and attractions such as Adventure Photography.
The Museum of the Future is more than just another museum dedicated to modern culture. Using the most up-to-date design, prototyping, and technical advances, 
the museum is exclusively dedicated to creating true next-generation exhibitions that will transport you 50 years into the future. Within its remarkable ring-like construction with a huge open center, you can discover the future of ever-dynamic science and innovation.
The Museum of the Future, with its 77-meter height, is a magnificent architectural marvel! It boasts a distinctively rectangular ring-shaped stainless steel exterior designed by renowned architect Shaun Killa, with 1024 parts manufactured utilizing the most advanced robot-assisted method. 
It is also embellished with insightful statements from HH Sheikh Mohammed bin Rashid Al Maktoum, which are etched on it in Mattar bin Lahej's masterful handwriting.
The building features three components that represent the museum's dynamic vision: the green hill represents the earth, the futuristic ring represents humanity, and the hollow portion represents innovation.
Each of the museum's seven floors, which span 30,000 square meters, looks like a set from a futuristic movie. They'll take you away to the year 2071 and beyond. 
It lets you experience everything you've imagined in a sci-fi magazine or movie, including inspiring space stations, a mind-boggling DNA library, and a future spa, as well as the most progressive in ecology, wellness, and spirituality.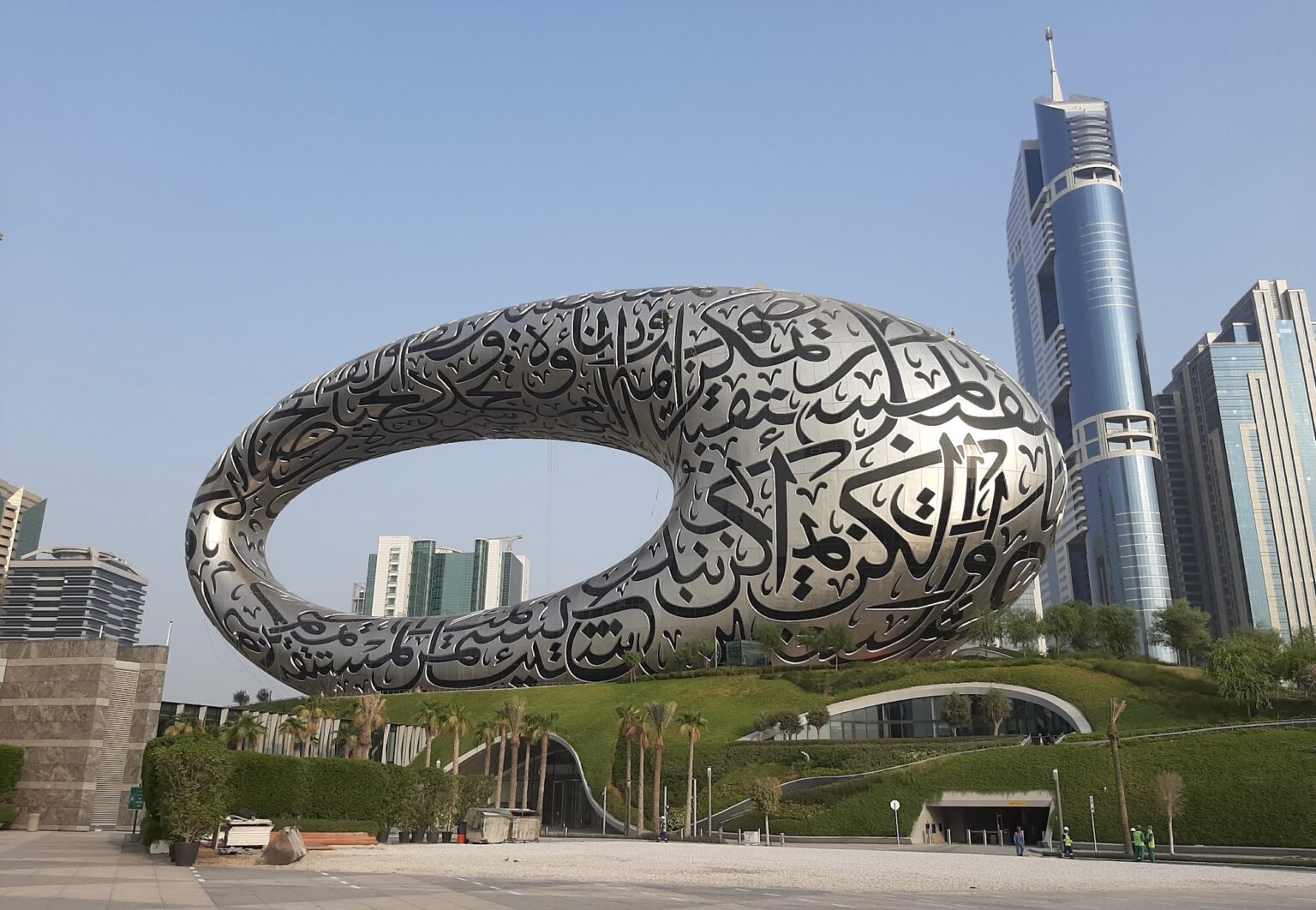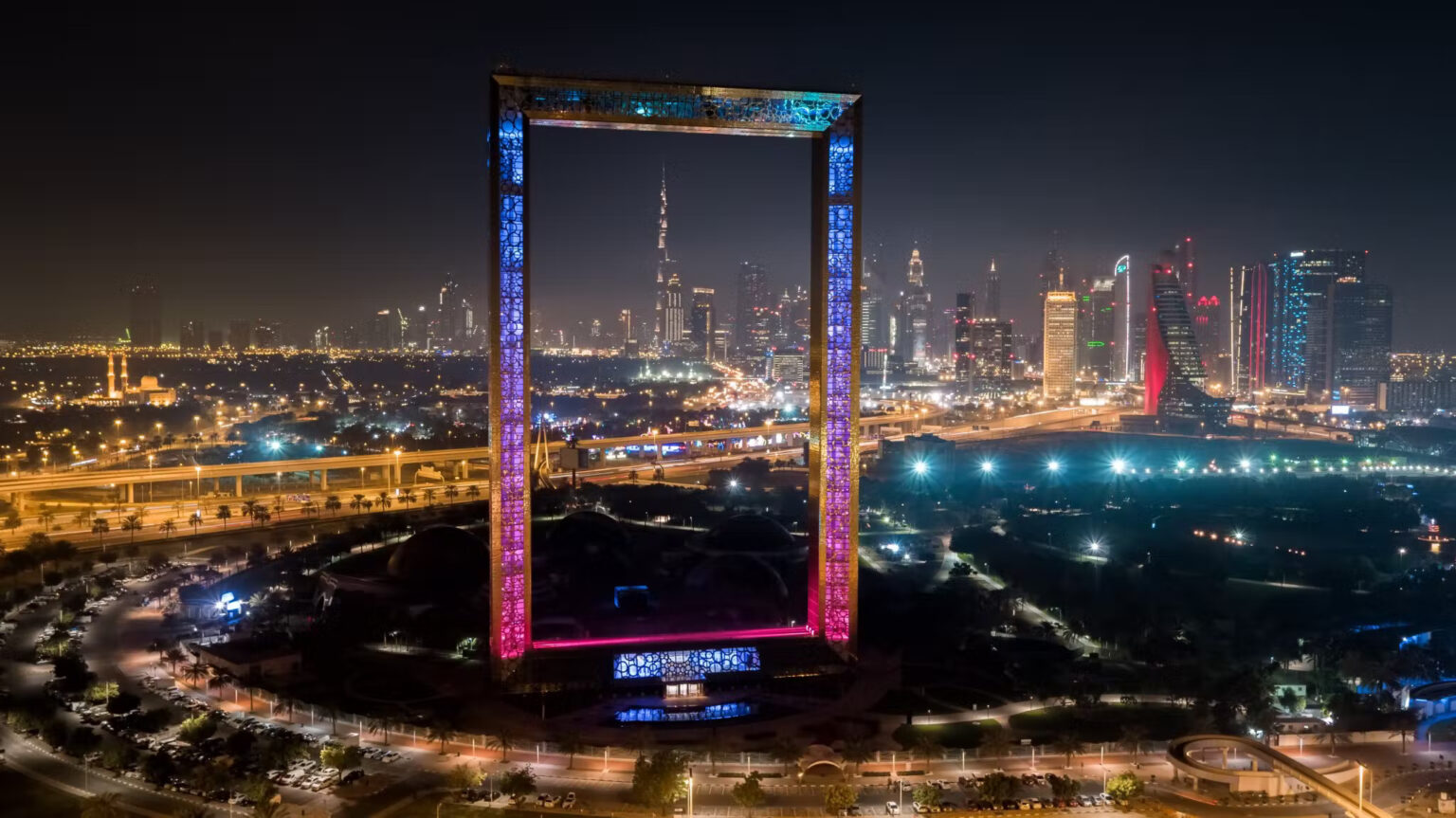 The award-winning design of Dubai Frame in Zabeel Park, which resembles a large picture frame, is easily recognizable. 
It consists of two 150-meter-high, 93-meter-wide vertical towers connected by a 100-square-meter bridge. And, true to its name, it allows you to take in the breathtaking vistas of the city's iconic new and lovely old landmarks all in one go.
Your Madame Tussauds Dubai tickets provide you the opportunity to meet practically all of your favorite celebrities in one location on Bluewaters Island. 
Seven thematic sections with the most engaging life-like wax exhibitions encourage you to immerse yourself in the world of all time's greatest celebrities. Come prepared to enjoy numerous postures and photographs with the celebrities.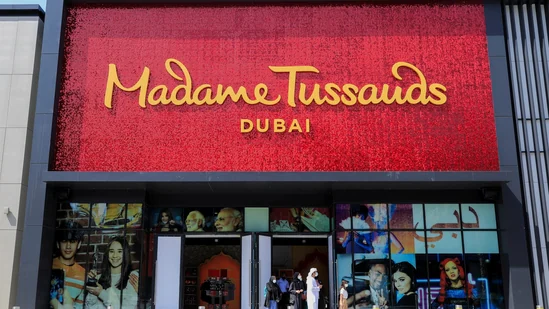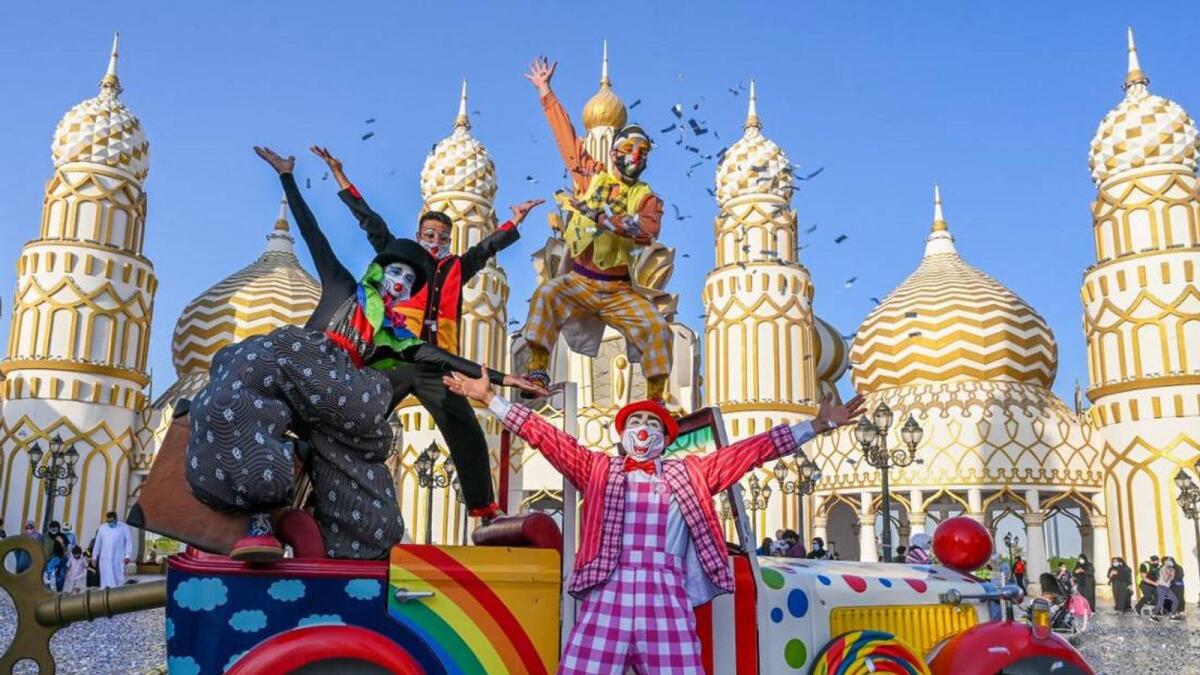 Every visit will reveal new delights as you sample cuisine and cultures from around the world at this one-stop shop for the best entertainment, shopping, dining, and activities in Dubai.
This season, visit 26 pavilions to learn about 80 different cultures. At Global Village, you may find treasures from all around the world, from artisans to entertainers. All visits to the Carnaval were full with pleasure and wonder, with over 170 rides, games, and attractions to explore and enjoy.
The UAE's second-largest emirate, Dubai, is famed for its cutting-edge architecture and breathtaking monuments, and it attracts a great number of tourists each year due to its vast array of masterpieces.
 This location is considered to be the evolution of theme parks as it appears to be an amalgamation of three well-designed destinations, namely Motiongate Dubai, Bollywood Parks Dubai, and Legoland. Under one roof.
 you'll find more than 100 exhilarating rides, record-breaking swings, attractions, and engaging live entertainment. Get ready to cool down this summer because this must-visit spot includes 40 indoor attractions and 20 themed water rides.
Ain Dubai, the world's largest and tallest observation wheel, offers a magnificent experience.Ain Dubai, also known as "Dubai Eye" or "Dubai Wheel," is one of the UAE's most popular attractions, with luxurious and cozy capsules that will take you on an amazing ride.
In the heart of Bluewaters, the stylish, must-visit island destination, enjoy 360-degree floor-to-ceiling views of Dubai in superior comfort.
The height of Ain Dubai is a stunning 250 meters. The world-record-breaking monument provides unique social and celebration opportunities for you and your friends and family to enjoy.
The greatest time to visit Ain Dubai is at sunset, when the sky turns a vivid orange and the towering Dubai cityscape slowly lights up.After your ride, you can visit the famed shopping and dining destinations on Bluewaters Island, including the most Instagrammable hotspots.
Miracle Garden Dubai, often known as the world's largest natural flower garden, is a horticultural attraction aimed at both locals and tourists. More than 150 million flowers and 120 plant kinds are exotically arranged into brilliant arches and patterns in various structures and shapes.
This 72,000-square-meter (13 football field) attraction is the idea of designer Abdel Naser Rahal and is located near the Arabian Ranches. The Miracle Garden, which opened in 2013, features more than 150 million flowering flowers that have been expertly arranged to form iconic buildings and monuments.
Multiple world records have been set at Dubai's Miracle Garden. It set the Guinness World Record for the world's largest vertical garden in 2013.
 In 2016, it added another feather to its cap with a floral representation of an Airbus A380 super jumbo plane. In February 2018, it set a new record for the World's Largest Topiary Structure (of Mickey Mouse).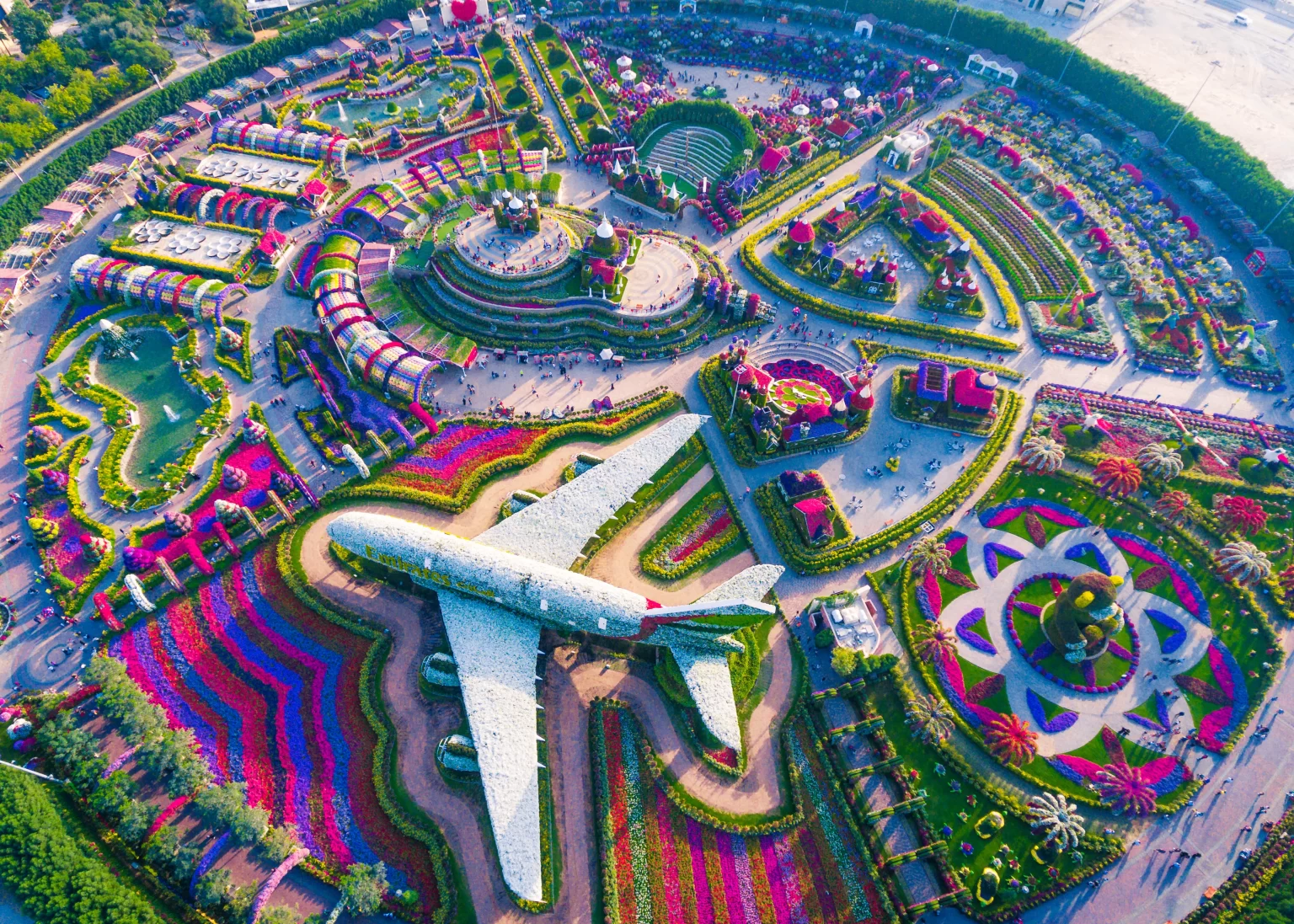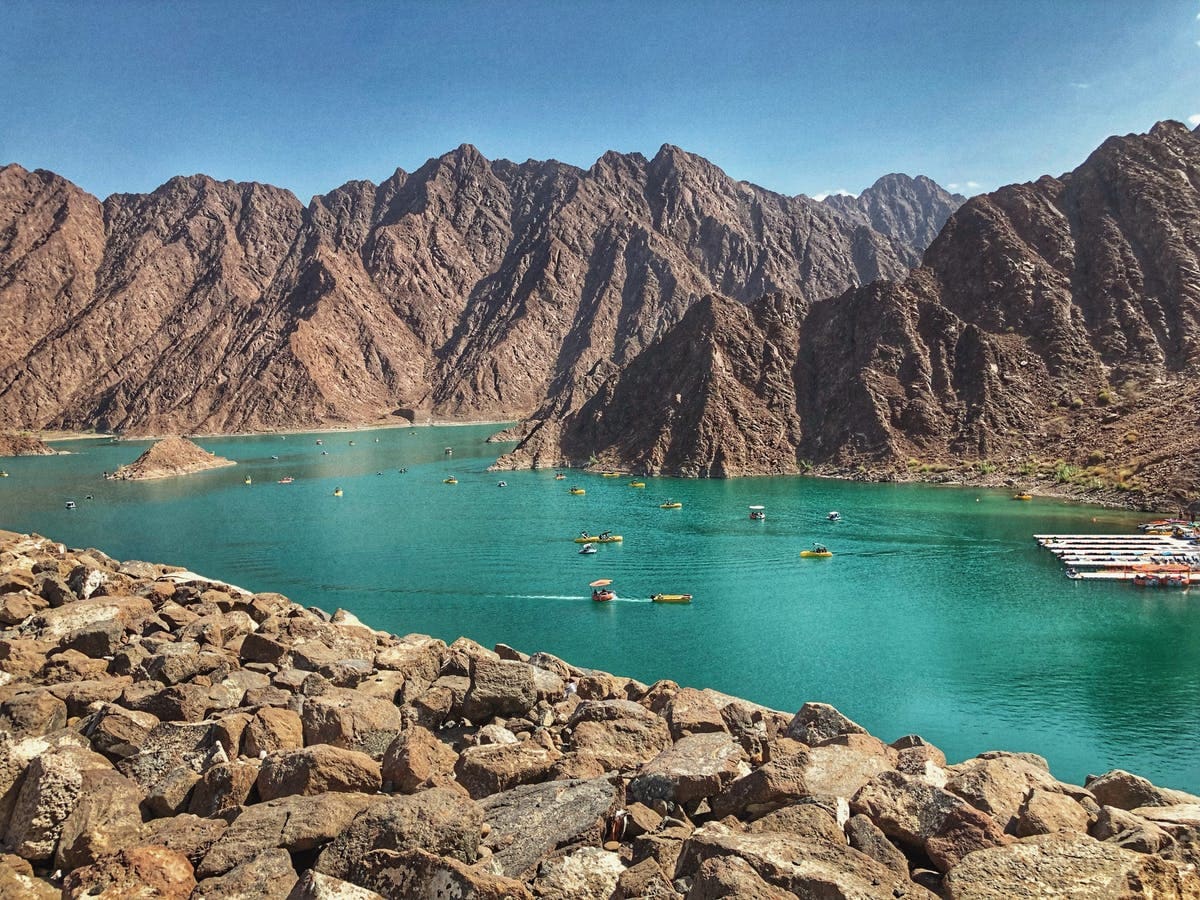 A trip to this mountain area in the UAE is quite memorable. Passing wadis amid lush greenery and surrounded by the peaks of the impressive Hajar Mountains.
A stop at the Hatta pools will provide one with the opportunity to dive into the turquoise cool waters.
Next stop will be the Heritage village of Hatta, famous for its traditional houses built some 300 years ago and the Portuguese Fort from the 16th century.
Lunch will be served at the Hatta Fort Hotel, Dubai's only mountain resort, which offers quite a variety of recreational activities amid the peaceful and tranquil setting.
The ideal view of Dubai is …from the sky!
Seeing Dubai from an aerial view is truly exceptional. Experience this through the Helicopter Trip, which takes off in Palm Jumeirah and flies over the beach hotels offering you the beautiful scenery of the coastline and the most famous landmark – the Burj Al Arab.
Be in awe of The World and Palm Island's magnificence as the helicopter circles over this remarkable project.
A different side of the city will be revealed soaring over the more modern skyline through Sheikh Zayed Road.
The diverse aspects of Dubai will further be felt overlooking the creek before landing.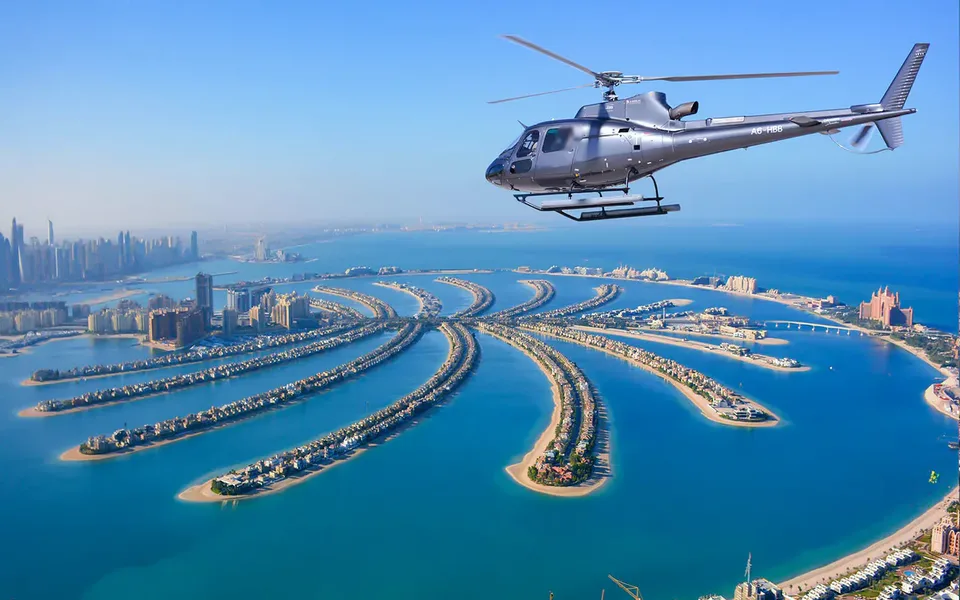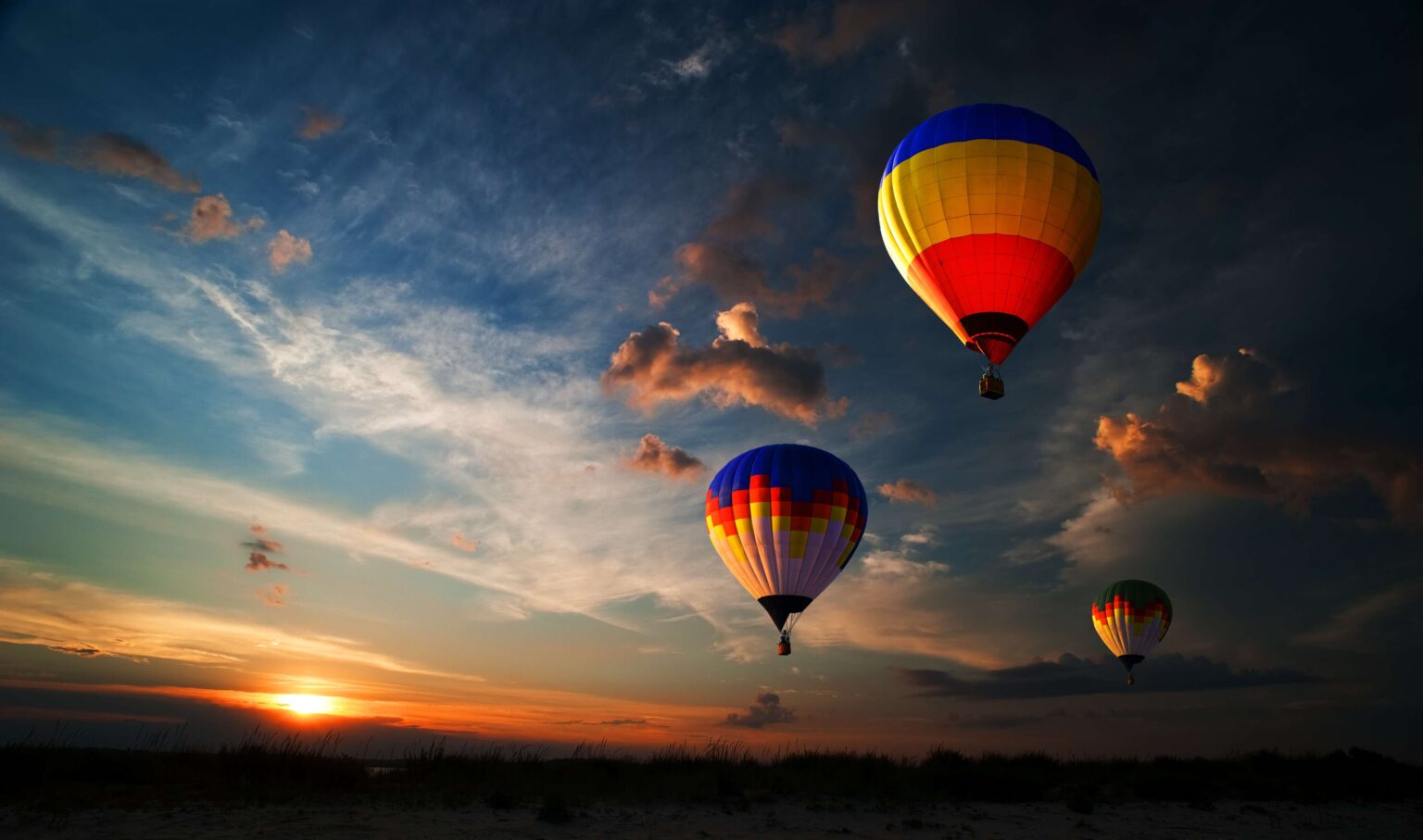 You will experience the desert as only a few have seen it-from a gently floating hot air balloon.
Feel the cool dawn air as you float only a few meters above the red sand dunes, then be awestruck as the mesmerizing landscape unfolds below you.
View the giant sand dunes, the moon-like landscape of the rugged Hajjar Mountains to the east, and the "21st century" sky line of Dubai to the west as you rise high into the immense blue of the desert sky.
Grand Mosque and Louvre Museum Abu Dhabi
The Grand Mosque of Sheikh Zayed. This is a magnificent Islamic architectural marvel that combines classic and modern Arabian creative influences.
 This huge mosque, which covers roughly 30 acres of land, can seat thousands of worshipers at a time! As you stroll around the courtyard of the Grand Mosque, you can observe the mosque's gleaming exterior surface, which is made up of white Greek and Macedonian tiles. The main dome, located in the prayer hall's center, is one of the world's largest mosque-domes. 
The world's largest hand-woven carpet, giant crystal chandeliers, flower-patterned floral artworks, and glass panels studded with hundreds of Swarovski crystals, to name a few, are among the mosque's other priceless features.
Louvre The Abu Dhabi Museum is unique in the world and can only be visited in France. The Louvre, as the world's largest art museum, houses various items from all around the world. As the sunrays pass through the silvery dome of this museum, you will feel as if you are soaking in sunlight. 
The pattern on this dome is notable because it resembles intertwined palm fronds. As you go along, you'll witness an astonishing collection of artworks, including pieces from the Louvre, the Center Georges Pompidou, the Palace of Versailles, and the Musee d'Orsay, among others. These displays are arranged chronologically to promote a deeper understanding of different civilizations and cultures.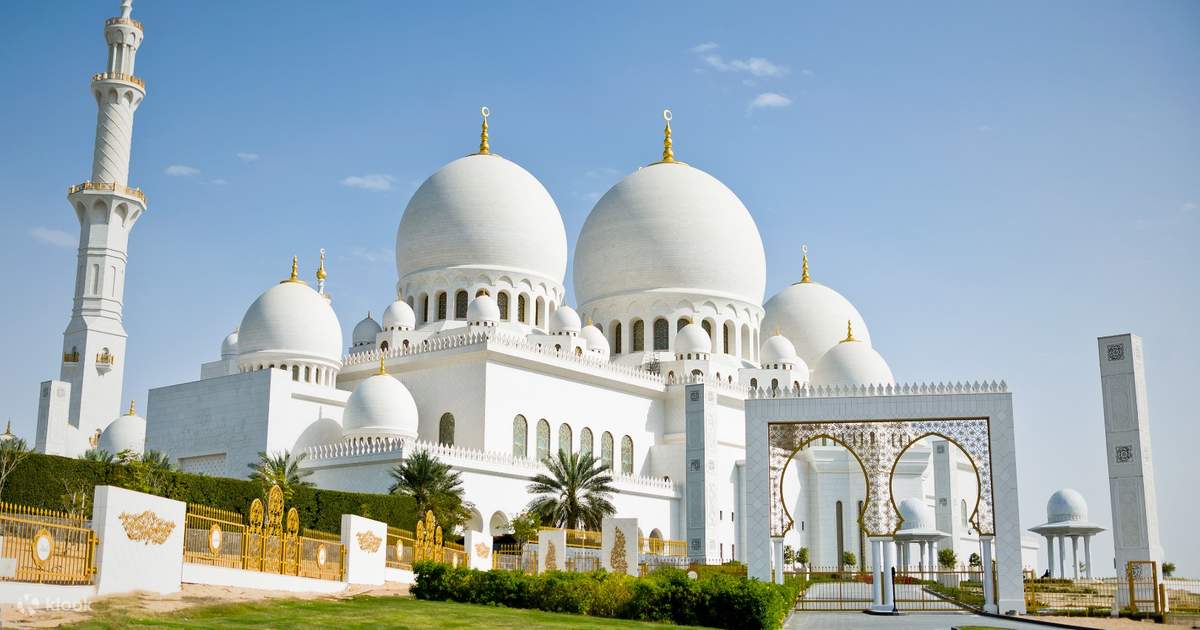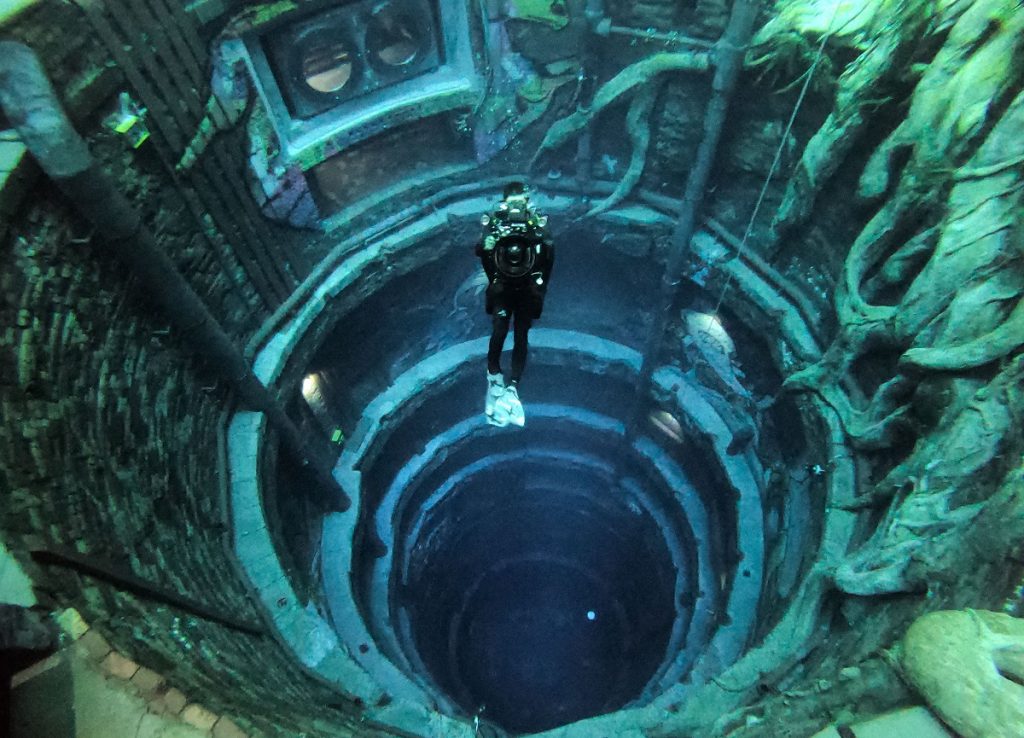 Dubai, which already has the world's tallest tower and the world's largest mall, has just added another world-record-breaking attraction: the world's deepest dive pool.
The pool, which is part of the new Deep Dive Dubai attraction, has surpassed Poland's Deepspot, which has a depth of over 45 meters, with an astounding depth of 60 meters (196 feet).
The Deep Dive Dubai pool is at least four times larger than any other diving pool in the world, with 14 million gallons of fresh water (enough to fill six Olympic-sized swimming pools). On June 27, Guinness named it the "Deepest Swimming Pool for Diving."
It's the world's first Ferrari theme park and largest attraction of its kind.
The park pays tribute to the passion, excellence, performance and technical innovation that Ferrari has established over the years and represents today.
Step past the main gates into an intense multi-sensory experience celebrating Ferrari. Fans, families and racing fanatics alike, will experience the race, the culture, the indulgence and history like no one has before.
The park will host more than 20 unique rides and attractions for visitors of all ages and interests, in addition to a wide variety of Italian delicacies and unique shopping experiences.
Attractions like Formula Rossa – the world's fastest roller coaster and G-Force awaits you.